Introducing Our Flexible PDF Gift Vouchers: Share the Gift of Well-being Instantly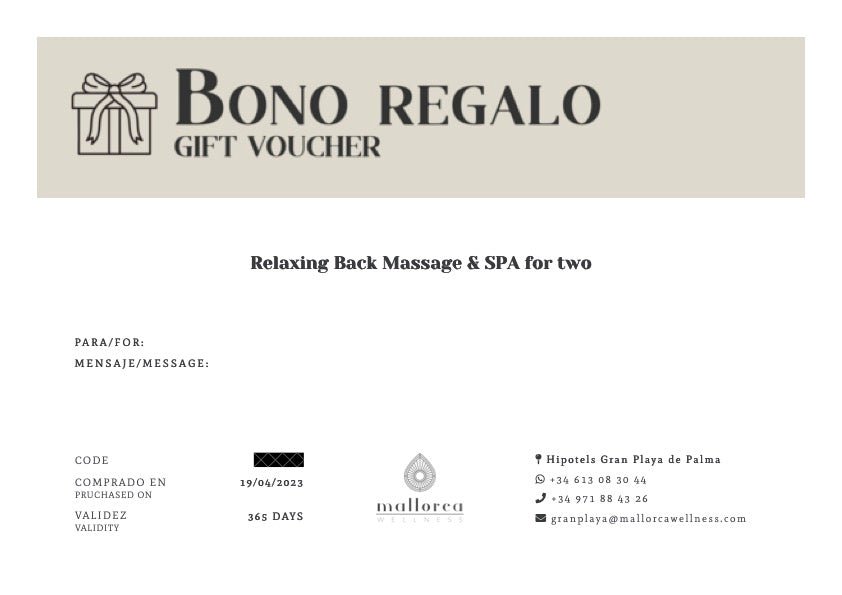 Choose to Pamper Yourself or Surprise a Loved One with Our New, Convenient Spa Package Vouchers in Mallorca
Greetings to our valued customers and wellness enthusiasts!
We are thrilled to announce a new and exciting feature on our website: PDF gift vouchers! This innovative addition is designed to bring you the utmost convenience and flexibility when it comes to purchasing spa packages for yourself or as a gift for someone special.
Immediate PDF Gift Vouchers for Ultimate Convenience
We understand that finding the perfect gift can be a daunting task, especially when you're short on time. That's why we've introduced our PDF gift vouchers, which will be sent to your email immediately after purchasing a spa package. This means you can now share the gift of well-being in just a few clicks!
Choose to Gift or Pamper Yourself
What sets our gift vouchers apart is the flexibility they offer. You can purchase a spa package and then decide whether you'd like to treat yourself to a rejuvenating experience or gift the voucher to a loved one. The choice is yours, and you can make it at any time after purchase.
A Personalized Touch for a Memorable Gift
To make your gift even more special, our PDF gift vouchers can be easily personalized. Simply print out the voucher and add the recipient's name along with a heartfelt message. This personal touch will make your gift truly unique and memorable, showing your loved ones just how much you care.
Redeeming Your Voucher
To redeem your voucher, kindly contact us to make a reservation in advance. We recommend scheduling your appointment at least 72 hours ahead of time to ensure availability and provide you with the best possible experience.
Discover the Perfect Spa Package to Gift
We understand that each individual has unique preferences and needs, which is why we offer a diverse range of spa package categories to cater to everyone. Take a look at our carefully curated selection and find the perfect match for you or your loved ones:
1. Couples SPA Packages: Designed to bring couples closer together through shared relaxation and rejuvenation. Indulge in luxurious treatments side by side, creating cherished memories and deepening your connection.
2. Friendship Spa Packages: Celebrate your friendships with our specially designed Friendship Spa Packages. Bond over pampering experiences and create unforgettable moments while enjoying soothing treatments that will leave you all feeling refreshed and revitalized.
3. SPA Packages for Groups: Whether it's a birthday celebration, bachelorette party, or just a fun day out with friends, our Spa Packages for Groups offer an exciting and unique way to spend quality time together. Enjoy group discounts and tailor-made services for a truly memorable group spa experience.
4. Individual Self-Care Spa Packages: Sometimes, you just need to take a step back and focus on yourself. Our Individual Self-Care Spa Packages provide an opportunity for personal relaxation and rejuvenation. Treat yourself to a bespoke wellness experience that will leave you feeling renewed and ready to take on the world.
Selecting the perfect spa package has never been easier. Browse our comprehensive offerings and find the ideal experience for yourself or your loved ones. With our immediate PDF gift vouchers, giving the gift of well-being has never been more convenient or thoughtful.
Experience Blissful Relaxation
We are committed to providing a blissful and relaxing experience for you or your loved one. Should you have any questions or need assistance, please don't hesitate to reach out at info@mallorcawellness.com.
So, what are you waiting for? Share the gift of well-being with our immediate PDF gift vouchers and let us pamper you or your loved ones with a delightful spa day. We look forward to welcoming you and creating a truly unforgettable wellness experience.
Warm regards,